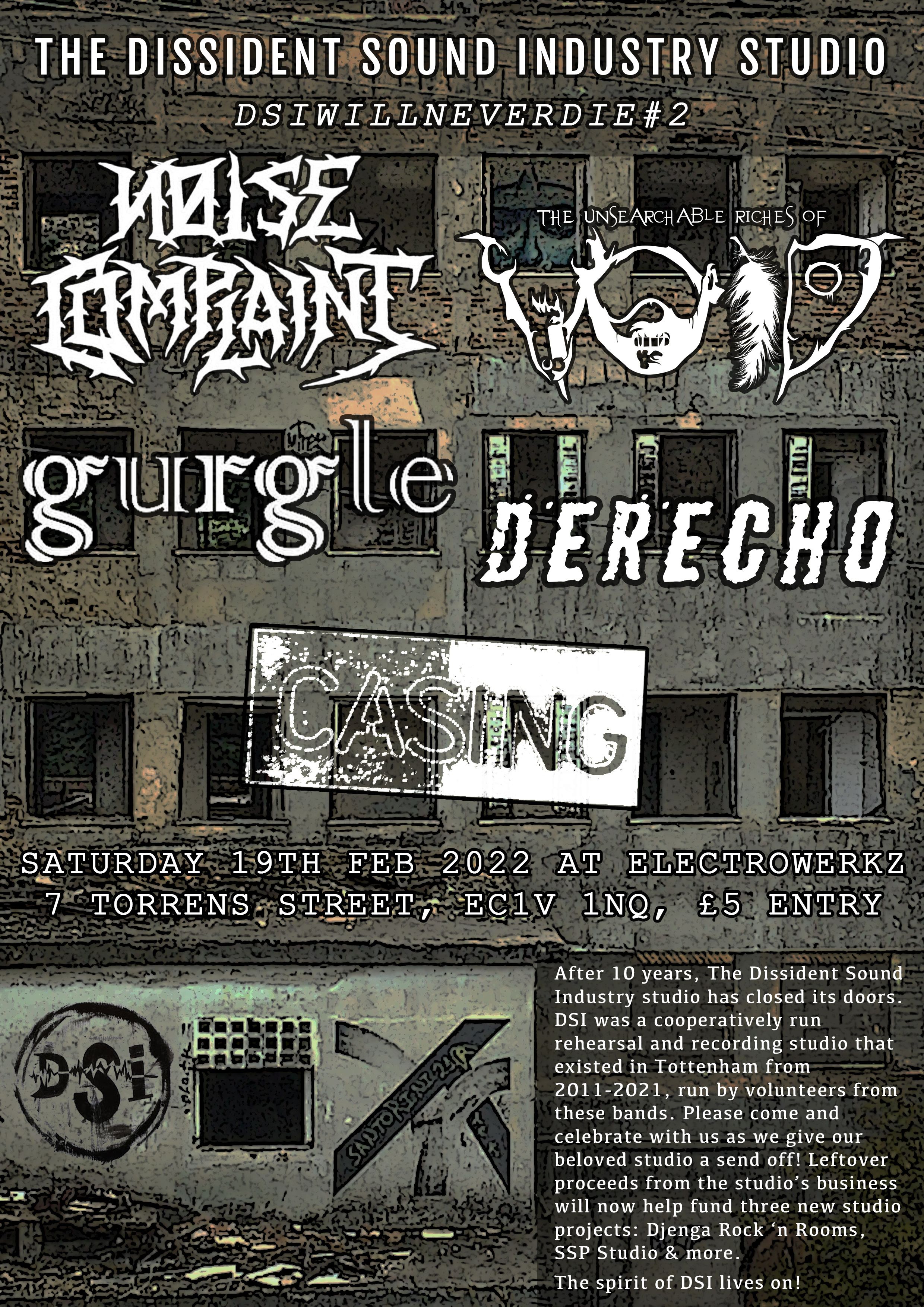 Next Saturday February 19th is the next VOID show, at Electrowerkz and will probably be the last show for a while, as Void disappear again for a while to complete work on the fourth album. 
About now would be a good time to say how stoked we are, raging to go and ready to rock etc... but let's cut the crap shall we? 
These last few years have been hard for everyone, and somehow, these last months, for some of us at least, have seemed the hardest. Just within our small selection of freaks we've had major health traumas, career overload, mental health problems, relocations, unemployment and more. Personally I have been in a very dark place through these winter months. It doesn't get any better by pretending it doesn't exist, does it? On top of this, on a band level we now have to contend with living in four different towns and yet more line up changes, so please don't think me a snowflake when I say, it is a massive effort to pull this show together. 
However: 
On February 19th at Electrowerkz we will attempt to invoke the healing, restorative powers of music. Like a phoenix rising from the ashes will will mobilise our weapon of choice and say a collective FUCK YOU to the pandemic, FUCK YOU to depression, FUCK YOU to the capitalist system that dismembers and undermines the music scene and kicks bands when they are down. FUCK YOU. 
Join us, as we invoke once more the spirit of the Unsearchable Void, in the form of five human individuals, with nothing to lose and nothing to prove. Let us share with you the light that we have found on our journey through the darkness. Let us live again. 
Your friend, 
Matt & The Unsearchable Void
PS: 
A word about DSI studio: "After 10 years, The Dissident Sound Industry studio has closed its doors. DSI was a cooperatively run rehearsal and recording studio that existed in Tottenham from 2011-2021, run by volunteers from these bands. Please come and celebrate with us as we give our beloved studio a send off! Leftover proceeds from the studio's business will now help fund three new studio projects: Djenga Rock 'n Rooms, SSP Studio & more. The spirit of DSI lives on!" 
The significance of the Void - DSI connection is not to be dismissed. I myself started The Dissident Sound industry as a production company in 2002 and its first credited endeavour was indeed our debut album "Posthuman". It wasn't until 2011 I opened DSI as a studio, along with my partners Keith Thomas (Flowers of Flesh and Blood/Gurgle), Maxime Seiter (Dead Existence/MWM), Wagner Antunes (Erege/Tropical Nightmare) and Nick Nicholson (Alta Cruz, Elite Vampire Cult). I left the studio circa 2017 but it always held a place close to my heart.
http://www.theunsearchablevoid.com